Overview of Banxso
Banxso is one of the most advanced, promising, and widely used multi-instruments trading platforms available today. It provides its users with a diverse selection of products and services. The Banxso platform has been accepted and legalized in a variety of nations and authorities, despite its vast range of characteristics and features. Its traders and investors have the option of investing in both alternative assets, such as cryptocurrency, and traditional assets, such as stocks and shares.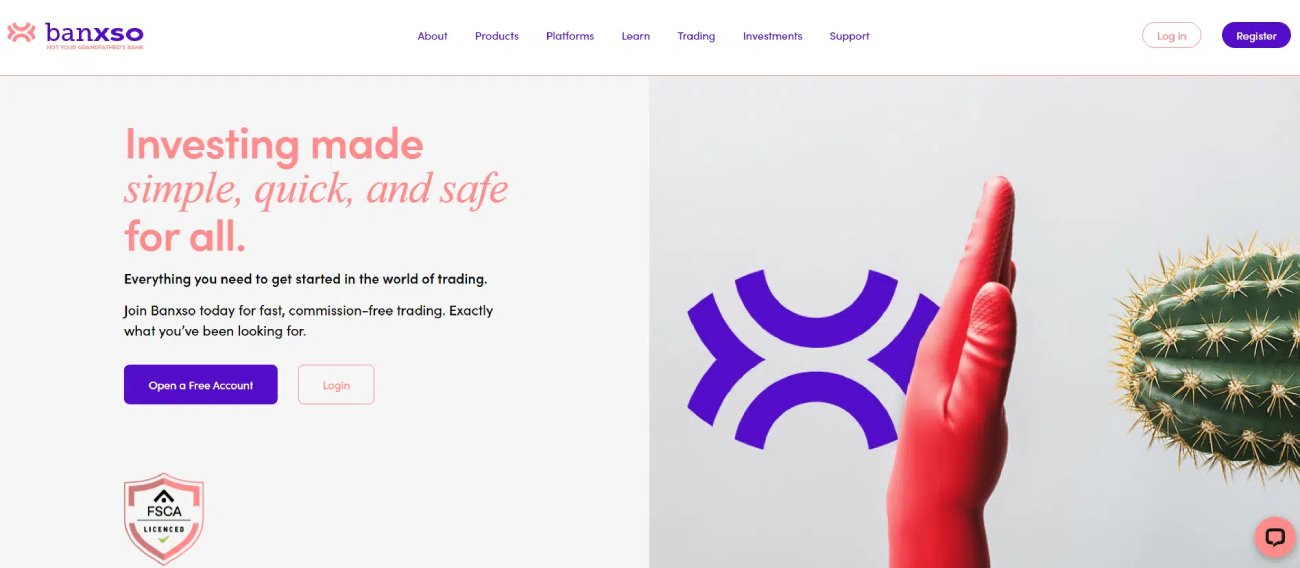 Banxso is an inter-platform that understands the demands of the traders and investors and offers them varying levels of trading strategies, knowledge, insights, and financial goals. In addition to indices, equities, commodities, energy, currencies, metals, shares, and a plethora of other trading possibilities, the company offers a wide range of products and services. In summary, Banxso provides a variety of trading marketplaces, the most prominent of which are stock and cryptocurrency trading.
Key Features from Banxso
Products
At Banxso, you will get an array of options with which you can trade. The tradable instruments include stocks, indices, forex, commodities, and cryptocurrency. You can trade both soft and hard commodities without any worry. The platform's cutting-edge technology will help you to make the right decision while trading the assets. Banxso aims to make cryptocurrencies and other assets as accessible as possible. It has been created to cater to the needs of beginners and experienced traders. Users have full control over their assets as they are not stored on central servers and can only be accessed through private keys, which remain with the user at all times.
Platforms
With an unrivaled reach as a trading platform, Banxso is also based on new technological wonders, allowing investors from all over the world to participate. Banxso promotes communications and updates to new and existing traders, in addition to offering round-the-clock assistance. In reality, Banxso members stand to receive significant benefits in this area. Regularly, they may profit from incentive programs, market watch updates, and price projections. From the comfort of your homes, you can trade through their mobile platform and experience the financial markets at your fingertips. You can trade with ease on trading platforms, like Metatrader 4 and Metatrader 5, Banxso X, and mobile.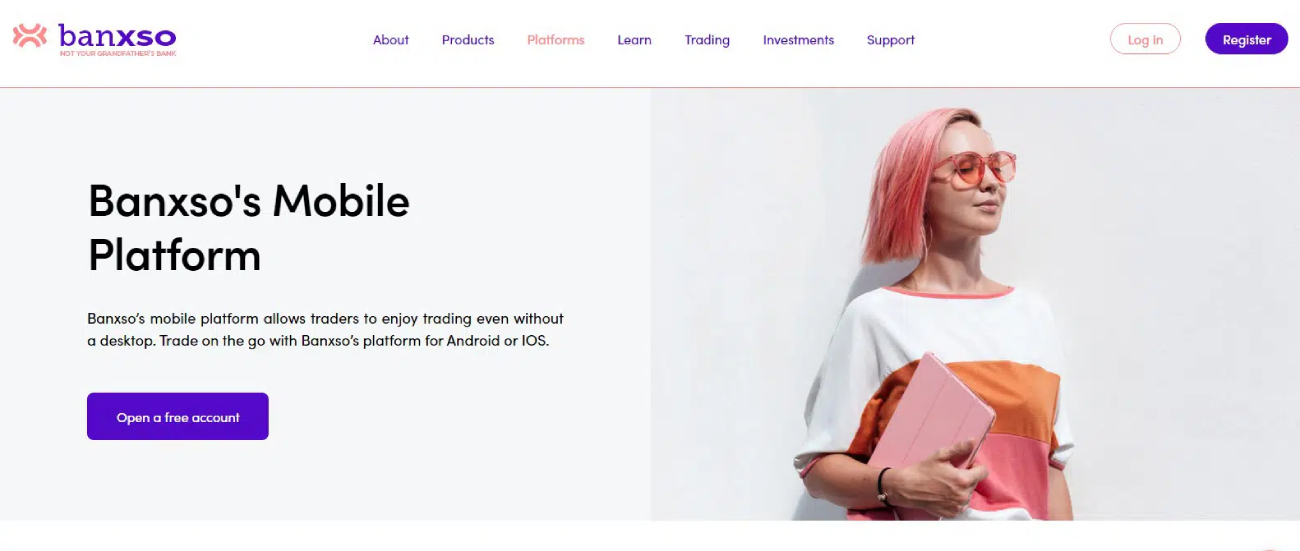 Educational Materials and Tools
Banxso is a platform that enables everyone, regardless of where they live or their knowledge of the market, to take part in the trading process. As a trader, knowledge is the motor that will propel you forward. That's why Banxso made the academy available to all its traders for free. Online trading is not always easy. It takes time and effort to master the market, but traders are also able to learn from their mistakes and improve their skills. To make trading more accessible, Banxso has introduced a wide range of training tools that teach clients how to trade smartly. Traders and investors will be provided with webinars, online courses, personal coaching, and trading ideas. You can avail of these free of cost and from the comfort of your home.
Trading and Investments
You will never be disappointed with Banxso. You may trade whatever you want, whenever you want, from secure growth equities to speculative cryptocurrency. Regardless of your trading experience, Banxso will assist you in identifying your favorite trading assets and diversifying your trading portfolio. Banxso's experts will assist you, whether you are investing for the long or short term. They'll show you how to use investing methods to your advantage and help design your strategy to accelerate profits. The innovative platform, smart tools, and qualified investors will assist you in fully exploiting the global financial markets without the need for middlemen.
Customer Support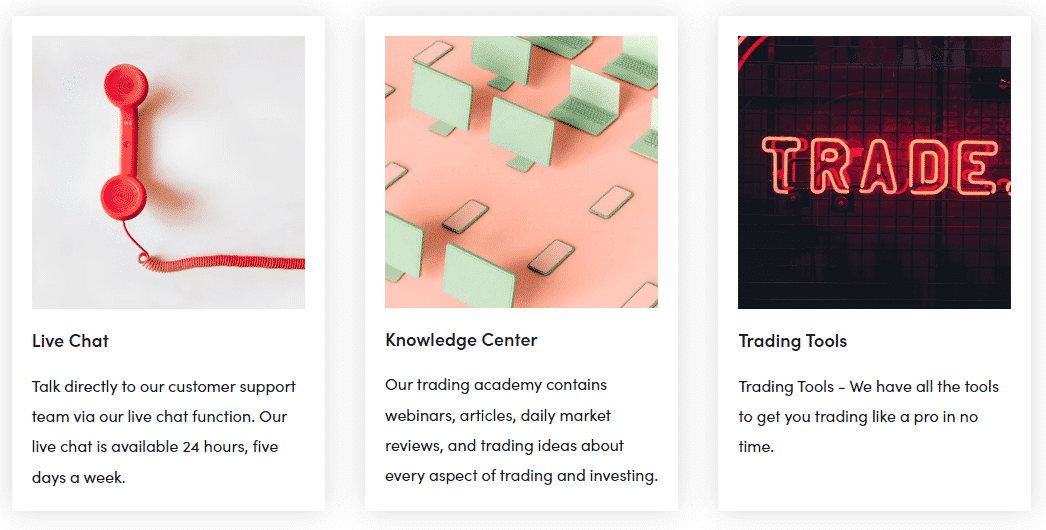 The Banxso platform is taken care of by the Banxso Team that provides guidance and support to the traders on the platform. The team also acts as a mediator between traders and exchanges, providing 24/7 customer service through email or phone calls. Banxso promises a helping hand whenever you need to clear your doubts and queries. You will have three options to take support, which include live chat, knowledge center, and trading tools to kick-start your trading skills.
Is Banxso Legit?
The Banxso business is an internet CFDs trading platform that offers one of the greatest trading experiences in the globe. The Banxso brand is approved and regulated in several countries. The website, www.banxso.com, is managed and operated by Zenfin Financial Services trading as banxso.com, and is authorized and regulated by the South African Financial Sector Conduct Authority ("FSCA") No. 37699 to serve all clients outside of the European Union, excluding residents of Ghana, Iran, Australia, Cambodia, Canada, Cuba, India, Israel, Mongolia, New Zealand, Nigeria, North Korea, Syria, Yemen, Panama, Pakistan, the Philippines, the UK, the US, and Venezuela.
Banxso is a trading platform that allows you to trade cryptocurrencies and fiat currencies. The platform has been designed with security in mind. Banxso uses SSL encryption and high-grade 3rd party auditors to ensure the safety of their traders' funds. Banxso offers two-factor authentication by sending a one-time password via text message or email.
Tradable Instruments of Banxso
Stocks
Stock trading is one of the most common methods for investing money in the market. Investors use these transactions to make money when they believe that a company will increase its profits. Many different types of stocks can be purchased in the market today, including those that have a high chance of success or failure as well as those with high returns on investment (ROI). This introduction explains what stock trading is, what types of stocks are available to buy, and how investors can go about buying them. Stock is a term used to refer to financial instruments that represent equity in the company's or business's ownership.
Stocks are tradable ownership interests in a corporation. Investing in the stock market is not only beneficial financially but also emotionally. When you invest in your company, you can feel that you are being part of something bigger than yourself, helping an organization grow is rewarding and fulfilling.
Indices
Indices are widely used in the financial markets to provide valuable insights and predictability. However, they can also be used for more than just investment purposes. Some indices track the performance of listed companies as well as asset classes, like currencies, interest rates, and equity indices. Trading indices have a massive impact on individuals' lives from a financial perspective. They take into account economic factors, like inflation and interest rates, among others, to determine whether an individual's investment strategy is working or not.

The indices are designed to make it easier for investors to invest their money into a diverse group of companies. They take the guesswork out of portfolio management by providing institutional investors with a portfolio that is diversified across different sectors or industries. Investors can use indices in either long or short positions. When using a long position, an investor expects the value of the securities that make up an index to rise over time. On the other hand, using a short position entails betting against an index and expecting it to fall.
Forex
Forex is an acronym for the foreign exchange market. This is a market where currencies are traded between countries. Due to its importance, different methods have been created to help traders make the right decision when investing in this market. One of these methods is using technical analysis based on price and volume movements in the currency itself and other factors such as news flow and government policies that could affect the currency's value. Currency is significant because it enables us to buy goods and services both locally and across borders.

Forex is a versatile trading tool that traders can use to make money from the fluctuations of currencies. It offers access to the world's financial markets and provides an opportunity to trade with no barriers in sight. Forex trading is a complex world with many opportunities, but also with risks and responsibilities.
Commodities
Commodities are a crucial part of most people's daily lives in the US. A commodity is a basic good used in business that may be exchanged for other similar products. There are a lot of traditional commodities, including grains, oil, beef, and gold. Commodities can help you diversify your portfolio as they aren't as volatile or unpredictable as most other assets. Commodities tend to sell off when the stock market is booming, but some investors take advantage of this phenomenon by buying commodities as a hedge against market volatility. Previously, commodities trading was usually reserved for professional traders because it took large amounts of cash and effort to participate. However, in recent years new technology has made it possible for non-professional traders to understand & trade.

The basic values of supply and demand are what propel the commodities markets in the largest context. Changes in supply affect demand; a lack of supply means higher pricing. As a result, any large disruptions in a commodity's supply, such as diseases affecting cattle, can cause a jump in the typically consistent and reliable demand for livestock.
Cryptocurrency
Cryptocurrency is a type of electronic money whose values are encrypted. It's decentralized, which means it's not run by a government or a bank. You can send money to anyone in the world using cryptocurrencies while maintaining complete control over your funds. As a result, it's a useful instrument for international trade and investment. Cryptocurrencies are only as valuable as the individuals that utilize them.
Cryptocurrencies do have the potential for making it easy to transfer payments between 2 parties without the involvement of a trusted third party, like a bank or credit card company. To secure these transfers, public and private keys, as well as various incentive schemes. such as Proof of Work and Proof of Stake. are used. A user's wallet or account address has a public key in cryptocurrency systems, whereas the private key is only known by the owner and is used to sign transactions. By completing financial transactions with minimal processing costs, users may avoid the hefty fees paid by banks and financial institutions for wire transfers.
Trading Platforms of Banxso
Mobile
Banxso's mobile application covers the whole spectrum of trading duties and provides rich analytical capabilities by utilizing technical indicators and graphical elements. On Banxso's portal, traders may check the status of their accounts and review their trading history. Using Banxso's platform, you will be able to trade while on the go. You will always have access to financial markets, no matter where you are.
Banxso X
Banxso X offers various benefits to beginner traders. They may make use of free educational seminars and webinars, as well as a wide collection of educational resources. When traders have questions or concerns, they can meet one-on-one with a financial counselor or trading specialist. Banxso is easy to use and even beginner traders can access its features and properties.
MT4
MetaTrader 4, abbreviated as MT4, is an electronic trading platform popular among online retail foreign currency speculators. It was built by MetaQuotes Software and released in 2005. Foreign exchange brokers that supply the software to their clients are granted a license to use it. As it is customizable to your specific trading preferences, which is why MT4 is immensely popular. It may be used to automate your trade by using algorithms to close and open trades on your behalf depending on a set of specified parameters.
MT5
MetaTrader 5 is a multi-asset trading platform that supports Forex, stocks, and futures trading. It has advanced capabilities for valuation models, algorithmic trading (trading robotics, Experts Advisers), and copy trading. This is the place you visit if you're looking for something other than forex. MT5 is built for traders that want to expand their trading activities beyond CFD Forex products since it is an all-in-one inter-trading platform. In both regulated and decentralized financial markets, it comprises stocks, futures, and foreign exchange trading instruments. MetaTrader 5 is noticeably faster than its forerunner, MetaTrader 4. It's a multi-threaded 64-bit platform that delivers market depth (DOM), which allows traders to view where bids and offers are priced across marketplaces.
Banxso is familiar with the important qualities of a wide range of leading trading platforms. A trader can never make a profit based only on intuition. A variety of instructional resources and techniques are supplied to dissuade traders from investing in trading instruments based on their gut impression. Trading specialists' insights and factual facts will help you make the correct decision at the right time.
The trading platforms may be accessed via Banxso X and Mobile. In addition to your regular privileges, the trading platforms provide a slew of supplementary bonuses and one-of-a-kind features. Traders that do not have access to a computer can utilize Banxso's mobile platform to trade. You may trade on the move with Banxso's platform for Android and iOS.
The technologically advanced platform assists you in navigating and selecting from many options. Advanced technology and the inclusion of cutting-edge services are available to merchants. Banxso gives space to traders from all across the world. Banxso caters to traders of all levels of experience, so new traders need not be concerned.
Trading on Banxso
There are several online trading platforms, brokers, and dealers available on the market and offer similar programs to traders and investors. The Banxso platform is one such portal that provides all-in-one trading solutions under one roof. Banxso is a popular and growing trading platform that provides a diverse variety of products and services to its consumers, investors, and traders. Even beginner investors can trade on the Banxso portal with their first understanding of this online trading platform.
Trading CFDs on Banxso
The contract for differences is a type of derivative agreement that allows the buyer to purchase a certain asset at a fixed price by leveraging the difference in value between the item and the price. In this sort of derivative contract, the buyer is obligated to purchase a particular number of shares or securities at a certain price within a given time frame. When there is a rise in demand for shares or securities, this form of contract is common.
CFDs enable traders to speculate on the value of an underlying asset without owning or borrowing it. For you to trade in this manner, the underlying asset does not have to exist yet. CFDs enable traders to speculate on the value of an underlying asset without owning or borrowing it. For you to trade in this manner, the underlying asset does not have to exist yet.

Educational Services & Investment Strategies by Banxso
Online Courses: Traders at Banxso are properly equipped for trading. To achieve this purpose, the platform has created a series of instructional courses on various aspects of trading in financial markets. Banxso has also taken into account our traders' hectic schedules and made these courses available online. Attending online educational classes is quite handy. You may listen to the uploaded contents whenever you have spare time, at your speed, and from any electronic device you own, no matter where you are.
Trading Ideas: The daily market updates direct traders' attention to political, financial, and environmental developments that affect stock exchanges. If you keep up with Banxso's updates, you'll feel secure even if markets unexpectedly reverse direction.
Webinars: Banxso's webinars address a broad variety of topics and give insightful solutions to your inquiries. Their webinars are interactive and allow you to share your thoughts with other attendees. By discussing your ideas with others, you will develop a better understanding of the inner workings of financial markets and the art of trading.
Personal Coaching: Banxso's coaches will answer your trading questions and provide you with practical advice on how to trade profitably. The coach will examine your rationale for making specific actions that cost you money when analyzing your trades. Banxso's trading coach will review your trading strategy and assist you in staying focused on your trading objectives.
Banxso Customer Support
There are three types of customer support available at Banxso. You can opt for email support, telephonic support, and/or human support. Banxso responds to its customers' queries and problems immediately. Please submit your support request, together with your complete contact information, to support@banxso.com. Banxso usually responds to email inquiries within 24 hours. Banxso offers one-on-one support. Please contact a Banxso official at their local embassy in Centurion, South Africa. Also, have all the important facts about your case on hand when calling. You may access all support services by dialing +27-080-099-7915.
Conclusion
Banxso's unique traits are particularly appealing to investors, making it a robust investment prospect. The company provides a wide range of services, including one-click access and instant execution for all market preferences, simple pricing for all transactions, and quick customer assistance. For traders of all levels, trading on Banxso is simple and versatile.
Banxso is a trading platform that helps investors get started in the market by offering integrated bearings such as low spreads, low commissions, and cutting-edge technical capabilities. Banxso's portfolio has thousands of investment products that may be utilized to help with crypto transactions and earn lucrative rewards. A trader will have amazing and joyful trading experiences at Banxso.
FAQs
What Is the Guidance Provided for Investing in Banxso?
Banxso will assist you whether you are investing for the long or short term. It will show you how to use investing methods to your advantage and will help you design your strategy for producing profits. Its cutting-edge platform, smart tools, and educated investors will enable you to take full advantage of world markets without the need for middlemen.
What Are the Tradable Instruments in Banxso?
At Banxso, you can trade a wide range of tradable instruments, like forex, indices, soft commodity, hard commodity, stocks, indices, and cryptocurrencies. The array of elements draws traders from across the world.
What Is the Trading System in Banxso?
Banxso helps investors optimize traders' and investors' returns and design their strategies. Its cutting-edge platform, smart tools, and educated investors will enable you to take full advantage of world markets without the need for a middleman.